Join me on this first leg of my walk along the West Highland Way, as I start out in Fort William, walk through Nevis Forest in Glen Nevis where I tackle my first ascent of about 250m before I bypass Dún Deardail, an old fortress. Then I reach the lovely lake called Lohan Lùnn Dà-Bhrà and from there head south along the Old Military Road. It takes me westward around Meall a' Chaorainn, an impressive mountain of 910 meters, into Lairigmór, the great pass with the picturesque ruin of Tigh-na-sleubhaich, bypassing several mountaintops before it finally goes down again into the valley of Kinlochleven. All in all the Way spans 24.5km on this leg and also features a combined ascent of 1130 meters. Not too shabby for a first day.
Relaxed walking in Nevis Forest
Nevis Forest proved to be a beautiful beginning of an epic long distance walk, especially because the weather was fine. There is an exceptional beauty in the morning sun shining through the trees in the morning, and I got plenty of it here.
After I had left my accommodation and followed the streets southwards, I decided to enter the forest a little earlier than officially advised, thus deliberately missing the official old beginning of the West Highland Way. I craved to get away from the street and into the wood. Even with the trees in the way, there was a lot to be seen and discovered, from huge rocks that for whatever reason lay right next to the path over little burns that ran down from the hill and crossed my path to beautiful wildflowers.
Having climbed up to 100 meters the way also reached openings in the east where I could see pass the treetops below me onto the impressive slopes of Meall an t-Suidhe, Carn Dearg and, of course, the mighty Ben Nevis.
All of these mountaintops were shrouded in whips of clouds and proved to be impressive subjects for landscape shots. You bet I made a whole lot of them. These images showed to be surprisingly difficult (though not too much) because it is damn easy to underestimate the dynamic range of the scenery with its bright highlights in the clouds and the shadows in the lower regions of the slopes. Setting up the tripod and go for several brackets would have been a technical but certainly not a practical option. I would not have gotten anywhere if I had done so. So I decided to deliberately underexpose my shots and trust into my ability to recover shadow details later on in post-processing.
Plans are good, being open is better
On a walk like this, it is essential to be open to the unexpected. When I had started out, I was eager to take pictures of rugged mountaintops and barren moors. These are the most common subjects to be photographed on the West Highland Way. With such a narrow mindset, it would have been easy to miss other exciting and often beautiful subjects you can encounter along the way. A good approach to mastering this balancing act between expectations and reality is to let go of specific photographic ideas (while not wholly forgetting them) and go for the attitude of a storyteller. With this mindset, you are always looking for images that tell the story of your adventure instead of hunting for specific subjects. If the desired situations and pictures occur anyway, then rejoice and be happy. In the meantime, focus on your adventure and shoot away.
Things along the way
Everything qualifies that impresses you or touches you emotionally. When I entered a dense woody stretch, I encountered a tree almost blocking my path. Snap.
A little later, two huge rocks lay in the woods right next to me. Snap.
Tell the story of your trip, don't hunt for that perfect image. Good things come to those who look for them. That next short ascent covered with loose rocks… snap.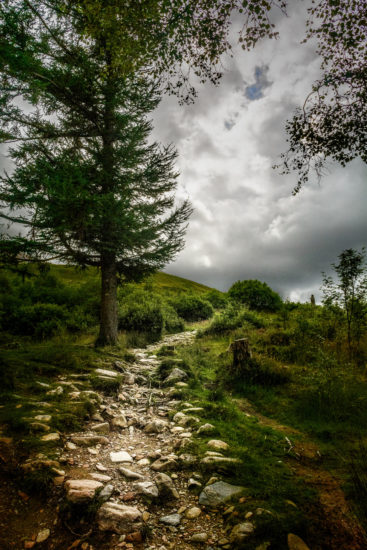 The small burn which was coming down on a rocky bed in a cascade of miniature waterfalls…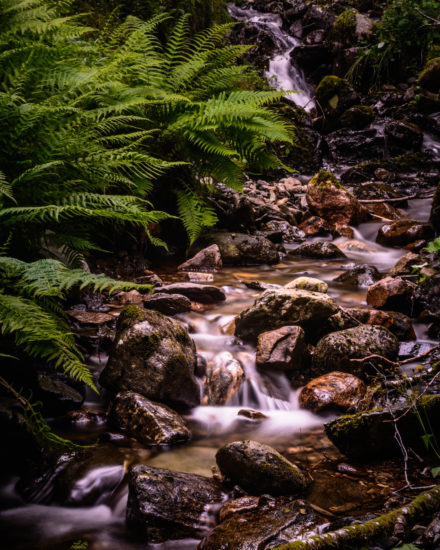 The stable on the slope of a mountain in the distance and the fully fledged digger next to it which despite being full-size objects look tiny in the vast openness you experience after leaving Nevis Forest…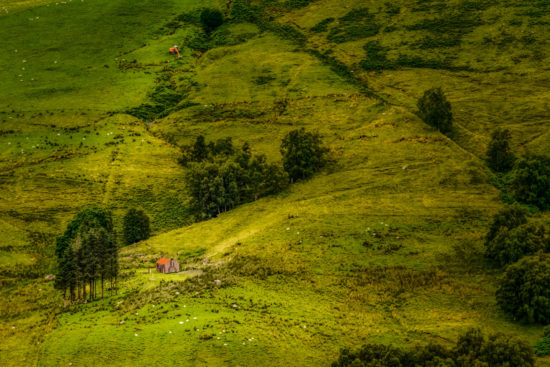 The sheep on the hillsides…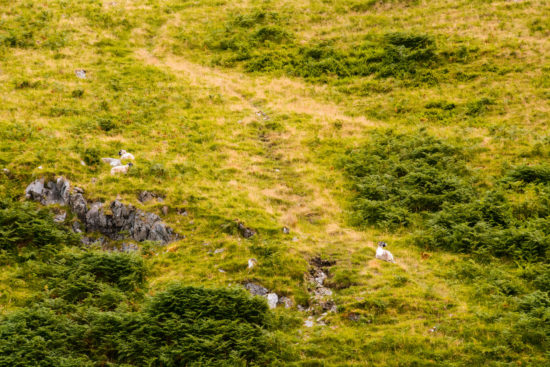 The silence…
Snap, snap, snap. Not all of these shots will be masterpieces. How could they be? You can't expect the light to be perfect (although sometimes it is) or to leave the way too far to get that perfect angle (except sometimes of course). Shoot what you get.
On the Old Military Road over the Great Pass
At about midday, I reached Lochan Lùnn Dà-Bhrà where I rested a bit. From this point onwards the scenery changed a bit and more and more began to make me feel like I was walking inside a travel brochure. Green mountains, quiet and peaceful valleys, empty and serene except for an occasional walker now and then. "What an epic weather," one said to me while passing me by as I was standing there taking photos. "Makes up for all the madness."
There are lots of picturesque subjects to shoot, for example, this lonely tree standing all alone on the slope of Meall a' Chaorainn.
And when you think it doesn't get any more breathtaking than this, you turn east, and while trodding onward, you can't help but be blown away by the sheer majesty of the way trailing off in the distance underneath a line of beautiful mountaintops in Lairigmór.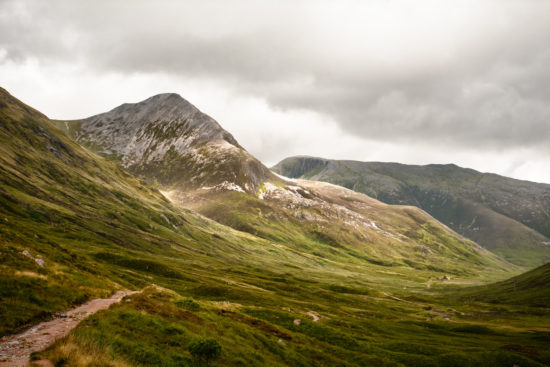 From time to time though it can't harm to turn around and view the landscape from another angle.
When things come together
And then, against all the odds, I got one of the shots that I had dreamed to get on this trip: A photo of the ruin of Tigh-na-sleubhaich facing into the Great Pass… what an epic scenery.
Wonderful iPhone
One thing I found particularly helpful was my iPhone 6+. I used it for several purposes:
Mapping. I used an app called Outdooractive as my walking map. It can download dedicated walking apps including a topographic layer that I could access offline on my way.
GPS tracking. I also used the app to track my progress along the way. This way, I could always see where exactly I was, and on the very few occasions when the route wasn't marked as it should be, it was easy to figure out which way to go. Walking maps never were more convenient.
Photography. Yes, I took photos with my iPhone even though I always had my DSLR close at hand. I did it for two reasons. Firstly, I planned to share those images with my family and friends. Secondly, I planned to use these geotagged iPhone shots as a reference to make geotagging my DSLR shots in Lightroom easier. The Outdooractive app also allows assigning photographs to their respective places on the map and then to save the completed tour. Sweet!
The iPhone excelled all the way. The battery easily lasted all day despite the constant use of the camera, screen, and GPS. Good job, Apple.
All good things…
… must come to an end and after I got my shot of Tigh-na-sleubhaich, I wish it could have come sooner. 24,5km in this terrain started to take their toll on the unfit and inexperienced walker that I am, especially on the first day. When I finally reached Kinlochleven, I was pretty much done and broken. I was happy to find my next accommodation a beautiful place with a hot shower and a cozy bed. Even the wifi worked so that I could FaceTime my people back home. Pure bliss.
What's next?
On the next day, the West Highland Way would reach its highest point. Magnificent views are guaranteed, even in the typical Scottish drizzle that regularly was coming down. Stay tuned.
---
---
You might also like
---